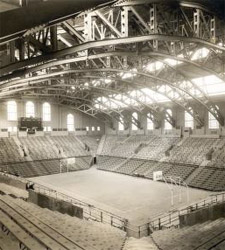 The famed Palestra opened in 1927 and has played host to the Big 5 since its inception in 1955.
HOME OF THE BIG 5
Most of the Philadelphia Big 5 men's matchups are played in the historic Palestra on the campus of the University of Pennsylvania. This storied building has been home to the Big 5 since its inception in 1955, and though it is located on Penn's campus, it serves as the home of the Big 5.
The Palestra has played host to more games than any other college arena in history.
The building was named at the suggestion of Greek professor Dr. William N. Bates who reasoned that the name fit because in Ancient Greece, young men would compete in a variety of events in a rectangular enclosure (a Palestra) in view of spectators. So in 1927, the Palestra opened its doors.
"With the streamers, the rollouts, the mascots, and the bands, the Palestra is an entirely different atmosphere from a professional game," said Harvey Pollack, the nationally-known statistician who has handled Big 5 games since the beginning. "The logistics are great, you can see anywhere and you're right on top of the action."
"I don't think there's a place on earth that is comparable to it," said Les Keiter, the voice of the Big 5 during the 1960's. "I've broadcasted games all over the world and no matter where I was, I would always say, 'You don't know what it's like until you walk into the Palestra.' You talk about the Field of Dreams in baseball, this was my Field of Dreams. The mystique and the history of the place are unparalleled. When you first come through the doors there's a certain feeling that you get that just transcends the moment. Then you walk out on the floor and look up at nine thousand people, the scoreboard, the streamers, the fervor and fever in the stands, the intensity of the players and the coaches. There's nothing like it in the world of sports. It almost defies description."
(Quotes taken from "Palestra Pandemonium, A History of the Big Five", by author Bob Lyons)
For more information
Directions, policies, seating diagram, ticket information and more
• Penn Athletics: The Palestra