Philadelphia Big 5 Announces Women's 2016-17 Season Awards
April 10, 2017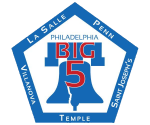 PHILADELPHIA BIG 5 ANNOUNCES 2016-17 WOMEN'S BASKETBALL AWARD WINNERS
PHILADELPHIA, PA. – Temple senior guard Feyonda Fitzgerald led her team to the outright Big 5 championship and garnered Women's Player of the Year accolades and first team All-Big 5 honors. Also winning a major Big 5 award from Temple was head coach Tonya Cardoza who was named the Big 5 Coach of the Year after leading her team to a 24-8 overall record and a perfect 4-0 Big 5 mark.  Temple finished 13-3 in the American Conference and earned a bid to the NCAA Tournament.
Joining Fitzgerald on the first team are fellow Owl Alliya Butts, Villanova's Alex Louin, Penn's Michelle Nwokedi and Amy Griffin of La Salle.
The Big 5 Rookie of the Year went to Kelly Jekot of Villanova, while Adashia Franklyn of Saint Joseph's was chosen as the Most Improved Player. The Hawks also had the Scholar-Athlete of the Year in Sarah Veilleux who has a 3.88 GPA as a Finance major.
Saint Joseph's placed two players on the All-Big 5 second team including Chelsea Woods and Adashia Franklyn. The other three players named to the second team are Villanova's Adrianna Hahn, Penn's Sydney Stipanovich and Temple's Donnaizha Fountain.
La Salle boasts both the leading scorer and best free throw shooter. Griffin led all Big 5 women's scorers with a 19.6 points per game average, while Adreana Miller connected on 70-of-79 from the charity stripe for 88.6 percent.
The Big 5 banquet is set for Monday, April 17, at The Palestra. Tickets can be purchased at the door or by clicking on the link below. Along with the current season men's and women's award winners, the 2017 Big Five Hall of Fame class will be inducted. This year's class includes Carlene Hightower (La Salle), Ibrahim Jaaber (Penn), Jameer Nelson (Saint Joseph's), Lynn Greer (Temple), Randy Foye (Villanova), George Raveling (Villanova) and longtime Philadelphia Inquirer sportswriter Bill Lyon.
TICKET LINK:
http://ev2.evenue.net/cgi-bin/ncommerce3/SEGetEventList?groupCode=B5B&linkID=upenn&shopperContext=&caller=&appCode=
WOMEN'S BIG 5 FIRST TEAM:
Feyonda Fitzgerald (Temple)
Michelle Nwokedi (Penn)
Amy Griffin (La Salle)
Alliya Butts (Temple)
Alex Louin (Villanova)
WOMEN'S BIG 5 SECOND TEAM:
Sydney Stipanovich (Penn)
Adrianna Hahn (Villanova)
Chelsea Woods (Saint Joseph's)
Donnaizha Fountain (Temple)
Adashia Franklyn (Saint Joseph's)
PLAYER OF THE YEAR: Feyonda Fitzgerald (Temple)
ROOKIE OF THE YEAR: Kelly Jekot (Villanova)
COACH OF THE YEAR: Tonya Cardoza (Temple)
TEAM CHAMPION: Temple Owls
MOST IMPROVED PLAYER: Adashia Franklyn (Saint Joseph's)
SCHOLAR-ATHLETE: Sarah Veilleux (Saint Joseph's)
LEADING SCORER: Amy Griffin (La Salle)
LEADING FREE THROW SHOOTER: Adreana Miller (La Salle)