Philadelphia Big 5 Announces Men's 2016-17 Season Awards
April 10, 2017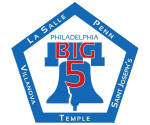 Philadelphia Big 5 Announces 2016-17 Men's Basketball Award Winners
PHILADELPHIA, Pa.—Villanova guards Josh Hart and Donte DiVincenzo were announced on Tuesday as the Philadelphia Big 5 Player of the Year and Rookie of the Year, while Wildcats' head coach Jay Wright was chosen as the Philadelphia Big 5 Coach of the Year after leading his Villanova team to the nation's No. 1 ranking as well as the program's fourth consecutive Big 5 title.
The major award winners on the men's side include Hart, DiVincenzo and Wright, in addition to sophomore guards Shizz Alston, Jr. from Temple and Jalen Brunson from the Wildcats.  Alston was named the Philadelphia Big 5 Most Improved Player and Brunson earned the Philadelphia Big 5 Scholar-Athlete of the Year honor.  Hart, Brunson and senior forward Kris Jenkins represented Villanova on the All-Big 5 first team along with Alston and La Salle redshirt junior guard B.J. Johnson.
The All-Big 5 second team consisted of Penn senior guard Matt Howard and freshman forward AJ Brodeur, La Salle redshirt senior guard Jordan Price, Saint Joseph's junior forward James Demery, Temple junior forward Obi Enechionyia and Villanova sophomore forward Mikal Bridges.
Hart and Brunson were also recognized as the Big 5 leading scorer and free throw shooter.  Hart averaged 18.7 points per game and Brunson shot 87.6 percent from the foul line.  Wright led the Wildcats to a 32-4 record, and Villanova won both the regular season BIG EAST title and the BIG EAST Tournament crown for the second time in the last three years.  The Wildcats have currently won a record 18 straight Big 5 games.
The Big 5 banquet is set for Monday, April 17, at The Palestra. Doors will open at 6 p.m. with the awards ceremony scheduled for 7 p.m. Tickets can be purchased at the door or by clicking on the link below. Along with the current season men's and women's award winners, the 2017 Big 5 Hall of Fame class will be inducted. This year's class includes Carlene Hightower (La Salle), Ibrahim Jaaber (Penn), Jameer Nelson (Saint Joseph's), Lynn Greer (Temple), Randy Foye (Villanova), George Raveling (Villanova) and longtime Philadelphia Inquirer sportswriter Bill Lyon.
TICKET LINK:
http://ev2.evenue.net/cgi-bin/ncommerce3/SEGetEventList?groupCode=B5B&linkID=upenn&shopperContext=&caller=&appCode=
Philadelphia Big 5 Men's Basketball Award Winners
PLAYER OF THE YEAR
Josh Hart, Villanova (Senior, Guard)
ROOKIE OF THE YEAR
Donte DiVincenzo, Villanova (Redshirt Freshman, Guard)
COACH OF THE YEAR
Jay Wright, Villanova
TEAM CHAMPIONS
Villanova Wildcats
MOST IMPROVED PLAYER
Shizz Alston, Jr., Temple (Sophomore, Guard)
SCHOLAR-ATHLETE OF THE YEAR
Jalen Brunson, Villanova (Sophomore, Guard)
LEADING SCORER
Josh Hart, Villanova (Senior, Guard)
LEADING FREE THROW SHOOTER
Jalen Brunson, Villanova (Sophomore, Guard)
ALL-BIG 5 FIRST TEAM
Shizz Alston, Jr., Temple
Jalen Brunson, Villanova
Josh Hart, Villanova
Kris Jenkins, Villanova
B.J. Johnson, La Salle
ALL-BIG 5 SECOND TEAM
Mikal Bridges, Villanova
AJ Brodeur, Penn
James Demery, Saint Joseph's
Obi Enechionyia, Temple
Matt Howard, Penn
Jordan Price, La Salle